WHAT IS ROSACEA?
Let's take a closer look at your rosacea
Not an actual patient

Rosacea is a serious disease

that affects more than 415 million people worldwide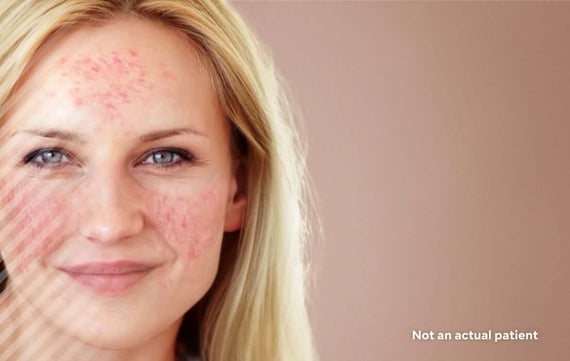 Rosacea is a chronic inflammatory condition with visible features that primarily affects the skin of the face and sometimes the eyes. It is characterized by redness mainly appearing on the cheeks and nose. The blood vessels from rosacea may also be visible on your face, neck, and forehead as well as small pus-filled bumps and pimples.
This condition looks different for everyone, and these signs of rosacea may get worse, referred to as rosacea flare-up, for weeks to months and then go away for a while. Rosacea can affect mostly adults, male or female, though it's more common in women.
There's no cure for rosacea, but through rosacea treatment and lifestyle adjustments, you can control and reduce the signs and symptoms of your rosacea.
What are the rosacea symptoms?
Everyone's rosacea is different, so you need to discuss all your signs and symptoms with your family practitioner or dermatologist
With similar symptoms, rosacea can often be mistaken for acne. If you're unsure, read through the Acne vs Rosacea factsheet and talk to your family practitioner or dermatologist.
SOUND FAMILIAR?
Take a short test to find out if you may be experiencing the common signs and symptoms of rosacea
Rosacea shows up differently on everyone; here are some
of the visible and hidden symptoms of rosacea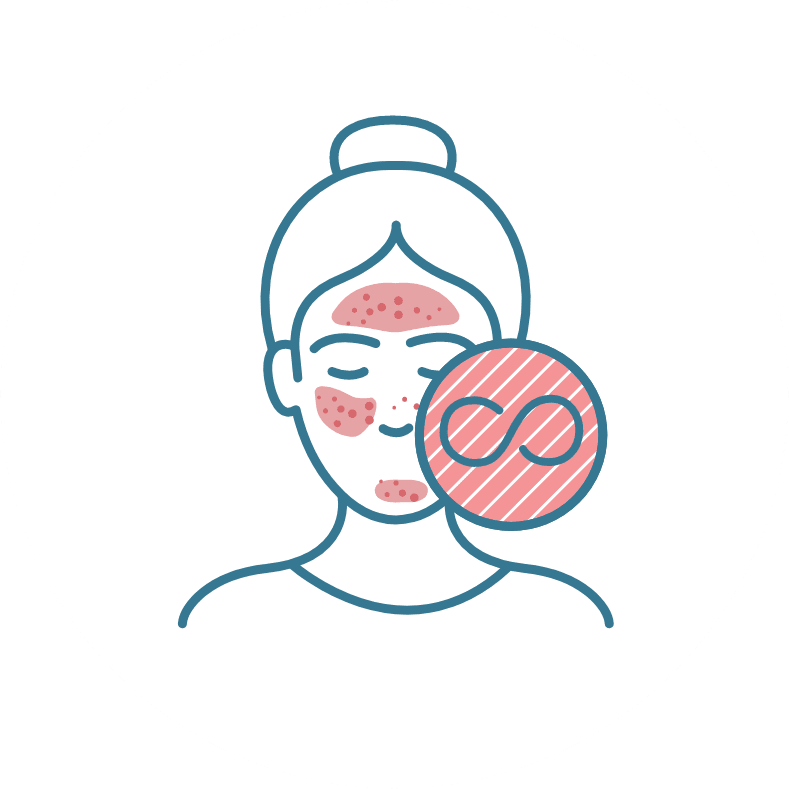 Permanent facial skin redness / red skin blotches on the face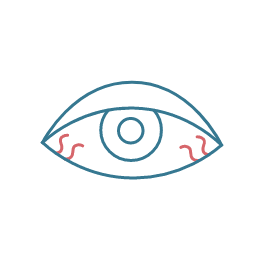 Itching / sore / red eyes / dry eyes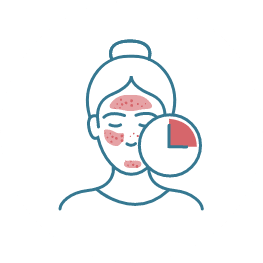 Flushing / temporary red skin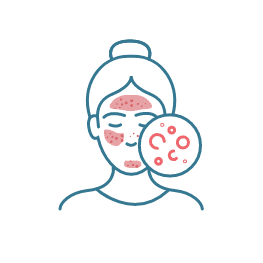 Facial spots / bumps / skin breakouts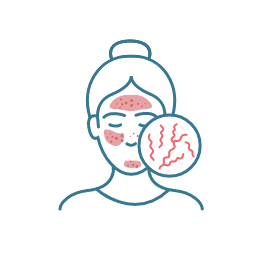 Visible small blood vessels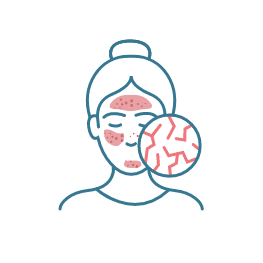 Dry skin appearance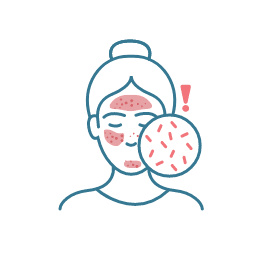 Itchy skin / itchy skin rash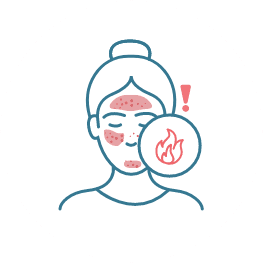 Pain / stinging / burning skin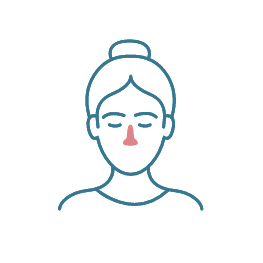 Red nose / nose swelling
What are the
causes

of rosacea?
What are the causes of rosacea and what triggers rosacea flare-ups?
Causes
What causes rosacea on the face?
The specific cause of rosacea is still unknown but different factors may play a role in the disease, such as: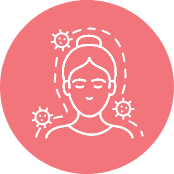 Abnormal functioning of the immune and/or nervous system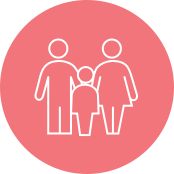 Genetic factors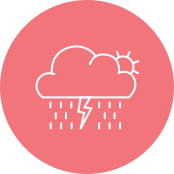 Environmental factors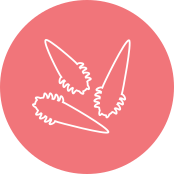 Demodex mites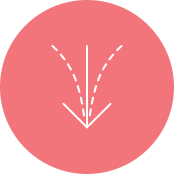 A combination of the above
Triggers
Many people with rosacea often wonder what causes their rosacea to flare-up.
Rosacea triggers include a variety of factors. It's different from person to person. Identifying your triggers will help you manage them.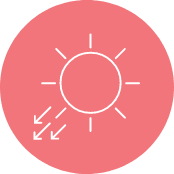 Sun exposure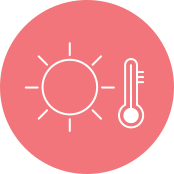 Extreme temperatures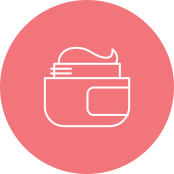 Skincare and cosmetic products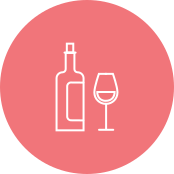 Alcohol consumption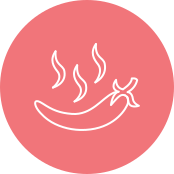 Certain foods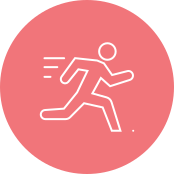 Intense exercise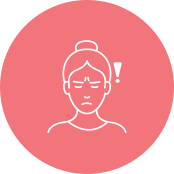 Stress and emotional situations
"Identify your triggers" factsheet
The
burden of living

with rosacea

The symptoms and impact of rosacea are more than skin deep
Rosacea is a chronic and visible inflammatory disease. As it affects your daily life, chances are it also has an impact on your mental health and emotional wellbeing. Even though they are not always visible, the symptoms and psychological burden of rosacea are real.
In a survey of 710 people with rosacea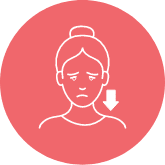 1 in 3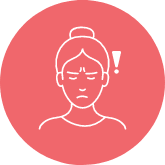 1 in 4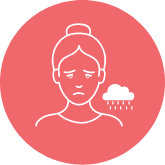 1 in 10
Ways of getting support
Talk to your family practitioner or dermatologist about how your disease affects you, physically and mentally, to tailor your treatment to encompass all of your rosacea symptoms – not just the ones they can see.

Build your personalized rosacea appointment guide to take to your next visit with your family practitioner or dermatologist.
DermNet NZ. Rosacea: Symptoms, Causes, and Management. 2022. Available at: https://dermnetnz.org/topics/rosacea. Last accessed: July 2022; Gether L., et al. Br J Dermatol. 2018;179:282-289; Huynh TT. Am Health Drug Benefits. 2013;6(6):348-354; Shanler S and Ondo A. J Am Acad Dermatol. 2008;58(2): AB9; Tan J., et al. Br J Dermatol. 2017;176: 431-438; Tan J., et al. The BMJ Hosted Content 2018. Rosacea: Beyond the visible. Available at: https://hosted.bmj.com/rosaceabeyondthevisible. Last accessed: July 2022.